"Wheels on Wheels:" Commuter Rail Accessibility in Boston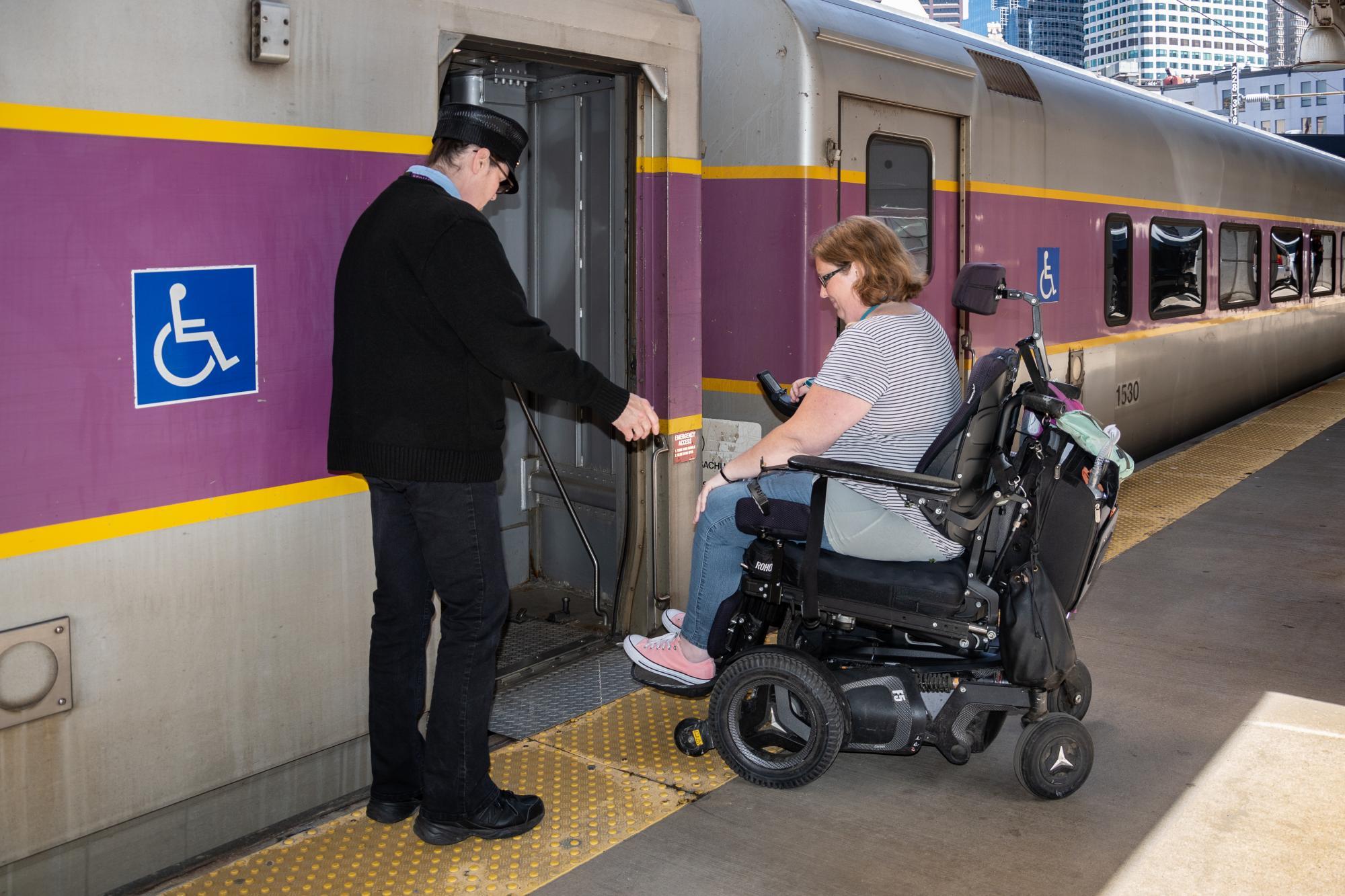 Getting to work by train and wheelchair.
My wife and I moved back to the Boston area from New York City about six months ago. One of the challenges we were concerned about was finding transportation to get to work. I didn't want to travel to Boston by car, because the commute is daunting. To my pleasant surprise, I discovered transportation that quite a few people use in the Boston area. I decided to get to work by train, or the "commuter rail."
To my pleasant surprise the 50-minute commute to Boston from my town, Hanson, works really well. The train is mostly on time, the conductors are efficient and diligent, and the passengers I ride with thus far have been delightful!
South Station, Boston
I catch the train every day each morning on the Kingston line to South Station, The beauty of the commute for a wheelchair rider is that the train is very accessible. And, the process is quite simple.
When a wheelchair rider boards a train, attentive conductors provide a metal plate, which is stored in "each" train car. The "metal plate" bridges the gap between the train car and the platform. Train conductors place the "plate" over the gap and wheelchair riders like myself, cruise right onto or off the train.
Train seats "flip up" for wheelchair riders.
Mini-wheelchair plate, similar to what's
used on the commuter rail to close
the "gap" between the platform and train.
One other perk: Conductors seek to ensure wheelchair riders always get on board. In fact, we are given priority as wheelchair riders, or those with other physical issues, such as being blind, deaf or mobility impaired, Individuals with "certified service dogs" for example, are also included.

Both conductors and passengers, in my experience during the past six months, are cordial and understanding regarding this policy. I get to work pretty much on time every day and feel secure and safe as I travel with fellow passengers on the commuter rail.


Another perk of riding the commuter rail is that you can't help becoming acquainted with fellow passengers. After all, we commute about the same time every day and face the necessary challenges regarding the train and the behavior of people surrounding us.
The Commuter Rail "Ladies Club"
One pleasantry of being a commuter is meeting folks who are traveling at the time you are. If you're lucky, you develop "commuter acquaintances." In my case, I am honored to be part of what I affectionately call the Kingston commuter line "Ladies Club," whose members have allowed me to become an "honorary member" of the group, as we ride together most days during the week.
As I am new to Massachusetts and disabled, their collegiality has made my commute to work and back more personable.
As a group, my fellow commuters and working women have made it easier for me to assimilate into my new environment, which is daunting for most members of the disabled community.
These professional women and leaders are considerate, cordial, and compassionate. They also share recipes, where to shop, and stay abreast of local news and events, and more importantly, are family oriented.
At the end of 2019, one "club" member made fudge for some of us during a recent train ride. And, a few months ago in 2019, a ladies club member asked me to speak on disability inclusion at her company, where she is an executive. I was honored to address about a 100 people at her place of work, and hopefully, I changed perspectives about living with a disability at that meeting.
These experiences continue to encourage me as society continues to slowly embrace the disabled community into the workplace and the community..
For more information:
The MBTA Commuter Rail serves Greater Boston, Central Massachusetts, and Rhode Island and offers a variety of accessible features to help you travel throughout the area.
Photos are from the MBTA website and publicly available websites.
https://www.mbta.com/accessibility/commuter-rail-guide
############