An afternoon of picking apples picked up my spirits
Déjà Vu: This column was originally published in the Journal-News, a newspaper distributed in Rockland County, New York, October 22, 1990.
I'm re-publishing this column as part of my online blog because apple picking season is upon us. I still believe the message is appropriate today and is an example of the activities many of us with disabilities can enjoy in the United States, and perhaps around the world. Photos were added to this posting from my collection or the web, as noted.
Some of the organizations and programs mentioned here may have changed or no longer exist in New York State as of this writing. I hope you find this column helpful and informative.
I have found another thing I can do from a wheelchair: pick up apples. As a boy from the Bronx, I didn't think I'd enjoy it. Boy, was I wrong! I had so much fun. I can't wait to take the family out again next year.
We didn't plan it, we just did it on a whim. We had driven to Chester, N.Y. to visit some friends. On the way home, my wife Maggie, a veteran "apple picker," suggested we find an apple orchard in the area. We ended up at Applewood Orchards in Warwick, New York just off Route 17.
Where it all started, Applewood Orchards

.


The day was beautiful and we were eager to try what Maggie had enjoyed as a teenager. In my 35 years, I've never picked or even thought of picking apples off trees. As a native New Yorker, the only apples I picked came off supermarket shelves -- already bagged.
My son J. R. (James Richard), who just turned one, and my seven-year-old daughter, Danielle, were also novices -- not counting their experience plucking apples from our refrigerator.
We parked the van, picked up our plastic apple bag and marched into the orchard, with Maggie and the kids leading the charge. The "armored" division, me and my wheelchair, brought up the rear.
Once under a good tree, Maggie and Danielle went at it. But as they put apples in the bag, J.R. pulled them out and threw them on the ground. He must have believed they belonged there, since there were hundreds of others already on the ground.
Just watching the kids was a joy!
When the bag was half-full, we slung it over my wheelchair armrest. Then I drove under the trees, trying to catch apples while Maggie and Danielle picked. Maggie showed Danielle and I what she was made of, climbing high in the trees after the choice, juicy red apples.
There she was - - wife, and mother of two - - almost swinging from branch to branch. Danielle burst out laughing.
I was thoroughly enjoying myself!
As Maggie climbed for that perfect apple, J. R. decided to pick up some less-than-perfect apples off the ground, and put them in our bag. To stop him, Danielle put him on my lap, and we gave him an apple to eat, which he did, sitting quietly for the next half hour.
To top off the day, I drove my wheelchair under a low branch and knocked an apple down with my fist - - my first apple "picked" from the tree.
Danielle picked it up for me, checked the quality, and put it in our bag. She was becoming a veteran apple-picker. When full, our bag yielded about a bushel of apples, and we paid eight dollars for it.
Family time at Applewood Orchards, now called Apple Dave's Orchards.
We spent almost two hours at the orchard, picking apples, talking, laughing and watching other people do the same.
On the way out, we bought lunch: hot dogs and a gallon of apple cider.
Driving home, the kids fell asleep and Maggie talked about how all of us, as a family, enjoyed the afternoon.
Rockland County has apple orchards too, of course. Dr. Davies farm, the orchards of Conklin, and Duryea Farms come immediately to mind.
Sitting in an electric-powered wheelchair didn't limit our fun. I maneuvered through the orchard, finding level ground and was able to accompany my family to almost every tree. (A person in a manual wheelchair would need help going through the orchard.)
Whether handicapped or not get out there and pick - - there's some great fun waiting for you.
Massachusetts Orchard Directory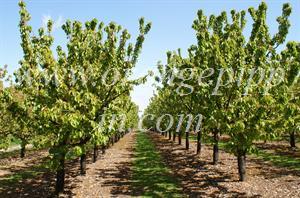 This Orchard Directory for Massachusetts is on the website "Orange Pippin". All 50 states are listed.